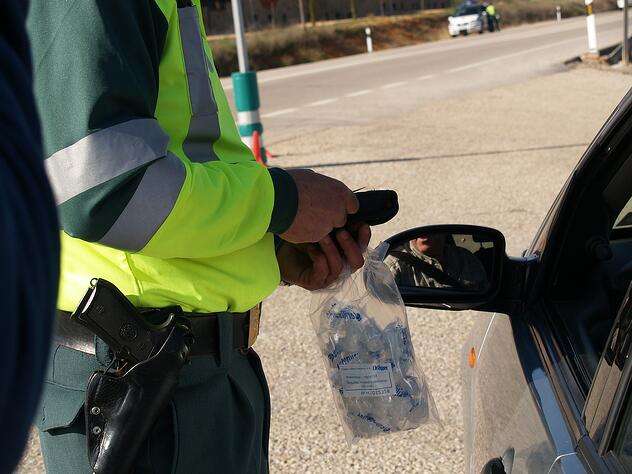 If you've ever been pulled over for suspicion of drunk driving in Wisconsin, you're likely already familiar with a breathalyzer test.
There are two times law enforcement is likely to ask you to submit to a breathalyzer or breath test to try to establish whether or not you might be intoxicated: during an OWI traffic stop and after an OWI arrest.
This article will address both of these circumstances when the request or option to take the breathalyzer test might arise and answer whether or not you are allowed refusal of breathalyzer testing under Wisconsin's breathalyzer laws.
If you're facing drunk driving charges and looking for an OWI lawyer in Madison or elsewhere across the state, it's important you consult a Wisconsin-based criminal defense attorney experienced in OWI right away.


Breathalyzer Test During Traffic Stops in Wisconsin
Most people don't realize they have the legal right to refuse a field sobriety test (FST) when pulled over for suspicion of OWI in Wisconsin.
"Many people in Wisconsin--if they're pulled over for suspicion of operating while under the influence of an intoxicant, don't realize that they are not legally required to do field sobriety tests."
-Madison OWI Attorney Pat Stangl
Once individuals learn they are not legally required to take field sobriety tests, such as the walk-and-turn test, the next question is, "can I refuse the breathalyzer test, too?"
The investigating police officer will likely ask you to submit to a breathalyzer or breath test as part of field sobriety testing during an OWI stop.
Since this version of the breathalyzer test is only being requested as part of the investigation process and before any evidence of OWI has been established, you are not legally required to submit to this test.
You are not required to take the breathalyzer in your car or on the side of the road. You can choose to take the test, but understand your intention to prove your sobriety might backfire if a false positive result is recorded.
Field sobriety tests, including the breathalyzer, have a reputation for being inaccurate for a number of reasons.
While it's human nature to want to cooperate with the police and engage in any testing they request, keep in mind there are a number of factors, including some health conditions, which can impact your test results and complicate your legal situation.
It's best to know your rights, be polite and exercise restraint during your traffic stop. Then contact a proven and effective OWI lawyer as soon as you are able.


Can Commercial Drivers Refuse Breathalyzer Tests in Wisconsin?
The short answer: No. An important exception to the right to refuse field sobriety testing in Wisconsin applies to commercial drivers.
If you have a commercial driver's license or CDL, you are required to participate in any requested field sobriety testing, including a breathalyzer test––even when off duty.
Commercial drivers must cooperate with sobriety testing requests from law enforcement, including breath tests, as a condition of your license.
To learn more about this requirement, read the article by Stangl Law, "What is Implied Consent in Wisconsin?"


Breathalyzer Test After Arrest
If you're stopped on a Wisconsin road because for suspected OWI and you exercise your right to refuse roadside sobriety tests, you should expect to be arrested.
Since the breath test is also considered an FST, you can also expect to be arrested if you refuse breathlyzer tests during your traffic stop.
It's important to stay calm and take stock in the fact that you did not help to establish potentially false evidence to be used against you later.
While field breathalyzer refusal may have been your right in Wisconsin (unlesss you have a CDL), you will not have that same right once you are taken into custody. Once in custody, you are required to submit to any breath or other chemical testing once under Wisconsin's law.
You do not want to risk any penalty for refusing breathalyzer test once in custody.
To learn more about drunk driving defense in Wisconsin, read the article, "15 Ways to Beat a Drunk Driving Defense in Wisconsin" by Stangl Law.


Madison's OWI Lawyer
Criminal Defense Lawyer Patrick J. Stangl has been aggressively fighting to protect the rights of drivers accused of OWI and other drunk driving charges for over 30 years. He remains committed to protecting the innocent against OWI charges in Madison, Hayward and across Wisconsin.
Two OWI Defense Success Stories
State of Wisconsin v. R.T.
The client was charged with an OWI 5th offense, a felony, with a high alcohol concentration. He had a number of prior convictions from Minnesota, where he did not have a lawyer. If convicted he would likely have received a prison sentence.
As a result of a very thorough factual and legal investigation, Attorney Stangl was able to establish that in four of the prior convictions his client was not properly advised of his right to appointed counsel and how an attorney may have been able to assist him in those cases, thus establishing that the prior convictions violated his client's constitutional rights under the Sixth Amendment. The State conceded that four of the prior criminal OWI convictions could not be counted against Attorney Stangl's client and the case was amended from a criminal conviction OWI 5th offense to an OWI 1st offense, a non-criminal ordinance violation, thus saving his client from a lengthy jail or prison sentence and another OWI conviction.
Victory - OWI Accident in Madison, Wisconsin
Attorney Stangl represented a client who had a vehicle accident in the City of Madison and registered a breath alcohol concentration of .14. Luckily no one was hurt but his client was subsequently charged with what is commonly called "drunk driving" but technically an OWI/PAC as a first offense in the State of Wisconsin, §346.63 (1) (a) and §346.63 (1) (b) Wis. Stats. It appeared the City had a strong case and his client was willing to put the matter behind him, however Attorney Stangl continued to research and investigate the matter. Ultimately he was able to discover that the arresting officer failed to comply with certain technical requirements of the law regarding the reading of the Informing the Accused which are rights that a suspected drunk driver must be informed of prior to the submission of any chemical test of their blood, breath or urine. Ultimately the case was successfully resolved and the OWI was amended to reckless driving and the PAC (above the legal limit charge) was dismissed.
FREE 15-Minute Consultation
If you need help to fight drunk driving charges in Madison or elsewhere in the state, Attorney Pat Stangl is happy to offer you a FREE 15-minute consultation to discuss your case and explore options for your defense against OWI, DUI, DWI, PAC, BAC or other criminal charges. Click the link below to get started.