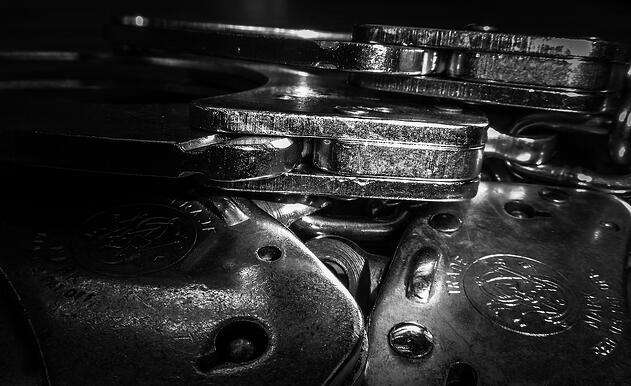 In the state of Wisconsin, domestic battery is defined as an adult engaging in the intentional infliction of physical acts, injury, sexual assault, physical pain or illness against a current spouse, former spouse, co-parent or a current or former co-habitant.
Law enforcement is required to arrest and take the primary aggressor into custody if it believes a crime or domestic abuse has been committed. After the arrest, the arrested individual must not go to the alleged victim's home, place of work or any of other place they might be.
If the 72-hour no-contact rule has been violated, the perpetrator may be sentenced to up to nine months in prison and punished with a fine up to $10,000. In addition, the alleged victim can opt to sign a waiver to void this 72-hour no-contact rule.
The Types and Levels of Domestic Battery
There are three types of domestic battery, ranging in degrees of severity.

Battery is intentionally causing bodily harm to another individual without their consent. It's a Class A misdemeanor, which can be punishable with a fine up to $10,000 and up to 3.5 years in prison.

Substantial battery is intentionally causing bodily harm to another and is a Class I felony. It comes with the same penalties as battery.

Aggravated battery is the intentional causing of great bodily harm to another person. It can be categorized as either a Class E felony or a Class H felony. A Class E felony is punishable with up to 15 years in prison and up to a $50,000 fine. A Class H felony comes with up to six year in prison and a fine of $10,000.

If the perpetrator's conduct creates a substantial risk of great bodily harm, it's categorized as a Class H felony. It's considered substantial risk of bodily harm if the person has a physical disability or is 62 years of age and older.

If the battered female is pregnant, the perpetrator can also be charged with battery of an unborn child. This charge is also divided into three different levels and comes with the same penalties.

What to Do If You're Arrested on Suspicion of Domestic Battery in Wisconsin
Domestic violence charges are easy to get, hard to defend and can come along with some serious consequences. Here's some things that you should do:
Don't take the deal offered to you at your first appearance. Meet with an attorney to help you evaluate your options instead.


Follow the rules of the domestic violence protection order because violating the order is just another crime that you can be

rearrested

for. Even a text that says "I love you" is a violation of the order.


Be sure to have another person photo any of marks or injuries that you may have received during the altercation with the victim. Self-defense is a very reasonable defense in domestic battery cases.


Don't speak with anyone about the event. Visits over the video system and phone calls from jail are recorded. Prosecutors often review these recordings to use possible statement incriminations to use against you. The only person you should be talking to is your defense attorney, as he or she is bound by attorney-client privilege.


Save all of your receipts and communications with the alleged victim that led up to the domestic dispute. This includes text messages, emails, tweets and Facebook posts. Some of that digital text information just may strengthen your defense.


Be sure to store receipts or credit card receipts can show where you were at a certain time. In sum, don't throw any paperwork away or delete any digital information. You should also let your attorney know about any of this evidence.
Are you suspected of domestic battery? Contact Attorney Pat Stangl to review your options.