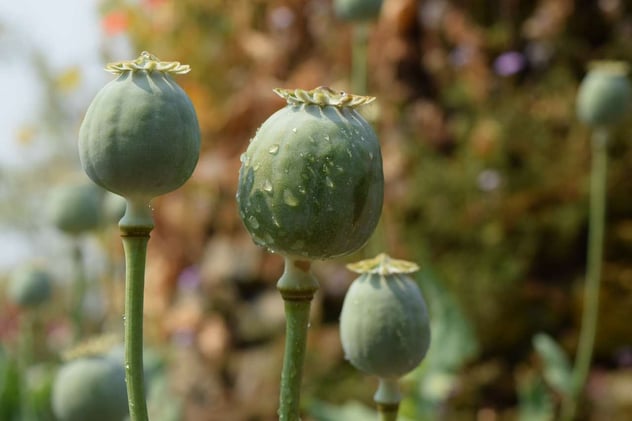 While drunk driving fatalities continue to decline across our country, another challenge continues to rise: driving under the influence of prescription and illegal drugs—especially opioids.
According to The Foundation for Advancing Alcohol Responsibility, in 2019, the rate of alcohol-related deaths on our roadways had declined by 66% since 1982.
However, research released by the National Highway Traffic Safety Administration has presented compelling information informing us that drugged driving is also a concern on our roads.
Finding a process to tackle the challenge of this problem has become a goal of the National Governors' Association.
Wisconsin has not been insulated from this problem. In fact, the Wisconsin Department of Justice has established a special initiative to help inform the public of the dangers of these drugs.
This article will take a closer look at this issue, explain which drugs are considered opioids and share some of the strategies the state of Wisconsin and law enforcement are taking in response.
If you are facing drug charges in Wisconsin, you may want to read the following articles by Stangl Law:
Increased Opioid Drug Use in Wisconsin
You've likely heard more than one news story concerning opioid use in Wisconsin lately. Whether it was in relation to possession of opioids with intent to sell, a car accident suspected to be linked to the use of these drugs, an arrest for driving under the influence of opiate drugs, such as heroin or prescription painkillers, or the unthinkable--death due to drug overdose--the impact of opiate use is all around.
The use of heroin and other opioid drugs in Wisconsin, including many prescription medications, is not only increasing, it is reaching epidemic proportions. The Wisconsin Department of Justice reports heroin use in Wisconsin has doubled since 2010.
If you or a loved one is facing charges relating to opioids or prescription medication in Wisconsin, you should contact an experienced criminal defense attorney right away.
What are opioids?
When people hear the term, "opioid" or "opiate," they typically think of heroin.
Heroin is an opioid drug derived from morphine which is sourced from the seed pod of a specific type of poppy. This well-known member of the opiate family is known by a number of street names including, but not limited to: "smack," "H," "white," "cheeva," and "brown sugar."
Heroin is considered a controlled dangerous substance (CDS).
But "Heroin" is not the only answer to the question, "What is an opioid?"
Opioids are not limited to street drugs like heroin. Many prescription medications also come from the opium family. These narcotics have a number of medical uses, often prescribed with the intention to relieve pain during illness, after surgery or while healing from an injury. However, their use must be closely monitored and followed, as they are also highly addictive.
Some common names for prescription opioids or opiates you may have heard of include:
Hydrocodone (Brand names: Lortab©, Vicodin©, Lorcet

©

)
Oxycodone (Brand names: OxyContin©, Percoset©, Percodan

©

)
Meperidine (Brand name: Demerol

©)

Fentanyl (Brand name: Duragesic

©)

Morphine (Brand names: MS Contin©, Avinza©, Kadian

©)

Hydromorphone (Brand name: Dilaudid

©)

Codeine (Available under numerous brand names)

Diphenoxylate (Brand name: Lomotil

©)

Propoxyphene (Brand name: Darvon

©)

Methadone (Various brand names)
The state is even seeing the impact of a powerful, but less-known opioid: carfentanil.
Carfentanil is an opioid listed in the same drug family as oxycodone. While it is typically used on large animals, there are reports of carfentanil abuse in Wisconsin. Having this opioid on the street is particularly troubling, given the fact carfentanil is 100 times more potent than fentanyl (50 times more potent than heroin).
You may have opiates in your medicine cabinet right now and not even realize it. If you are no longer taking these medications, consider disposing of them through one of Wisconsin's "Drug Take Back" programs before they fall into the wrong hands.
It's a good idea not to leave these medications where others can get access to them, as it is illegal in Wisconsin to take prescription medication that has not been specifically prescribed to you.
If you or a loved one are struggling with a drug addiction, it is important to seek assistance.
Driving on Drugs in Wisconsin
Wisconsin has a zero-tolerance approach when it comes to driving under the influence of opioids like heroin, and takes the same position against impaired driving resulting from the use of other drugs, such as marijuana, methamphetamine and other controlled substances. Yet, the state continues to see a rise in the use of these drugs.
With higher usage of these drugs, comes higher numbers of DUI or OWI cases related to drug use, now rivaling alcohol-related criminal charges.
The Wisconsin Department of Justice reported 1,141 heroin cases alone, as compiled from cases seen by the Wisconsin State Crime Laboratories from 2015. This number has been on a steady climb from 1,061 cases in 2013 and 1,133 cases in 2014.
Law enforcement is aware of these growing trends and keeps a close eye on drivers' behavior for signs of driving under the influence. If an officer suspects a driver may be under the influence of drugs or another intoxicant, they would approach the situation similar to a drunk driving stop.
If you are convicted of a drug offense in Wisconsin you could face serious penalties, depending on the details of your case, prior offense and other factors.
When faced with drug charges in Wisconsin--on or off the road--you need to contact an experienced and knowledgeable criminal defense attorney.
Stangl Law: Providing Defense Against Drug Possession, Drug Charges in Wisconsin
"If you're facing a drug offense in Wisconsin, we have many years of experience in defending these types of cases. We've successfully defended drug cases involving search warrants and recently defended a case where our client was the subject of a search warrant, drugs were found. We were able to demonstrate to the prosecutor what we believed to be were errors in the search warrant, itself. And we ultimately, successfully negotiated that case and there were no drug convictions entered against our client."
-Attorney Pat Stangl
FREE 10-Minute Consultation
Madison Attorney Pat Stangl has over 32 years of experience aggressively defending clients across the state of Wisconsin and is happy to extend to you at no obligation, a FREE 10-minute consultation to discuss the details of your case and explore your defense options. Click below for your free consultation today.